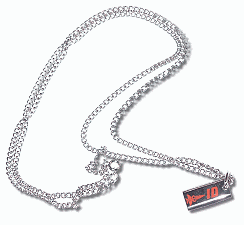 DON'T RIDE WITHOUT ONE
SCC-Med Scope $24.95 for ordering information please contact us at Sales@SoCalCruisers.com
SCC-MedScope is a revolutionary new product designed to have emergency medical information immediately available with no 800 numbers to call for important details. SCC-MedScope holds 25 lines of information in a patented miniature magnifying scope and a microfilm dot. What you see in a 7" circle is clearly seen in the SCC-MedScope. SCC-MedScope is compact, durable, waterproof and looks great!
Product Details:
Whether you're riding the track or riding the streets…don't be caught without your SCC-MedScope! This can save your life and assure you get the BEST medical attention.

Why SCC-MedScope instead of traditional ID bracelets?
1. SCC-MedScope keeps information confidential. No display of embarrassing medical information exposed to friends, co-workers or to the public.
2. SCC-MedScope contains 25 lines of important emergency information immediately, legibly viewable.
3. There are no 800 numbers to have to call, nor cards to locate for details.
4. SCC-MedScope is a pendant approx. 3/4" x 3/8", about the size of a nickel–not a bulky or tacky tin bracelet.
5. SCC-MedScope can contain your request for consents, DNR, or NO BLOOD authorizations, etc.
6. SCC-MedScope displays the very important Caduceus symbol, the universal medical alert logo, which emergency professionals are trained to look for.
7. SCC-MedScope is available in silver tone, sterling silver, 14kt gold and 18kt gold-plate.
8. SCC-MedScope is nearly indestructible, waterproof up to 150 feet, and has a lifetime warranty.